SEO refers to the activity of optimizing a website or web page to rank better in search engine results pages (SERPs) for specified keywords or phrases. The purpose of SEO is to boost a website's exposure and traffic through organic search results.
If you find this course educative, feel free to
Keyword research, on-page optimization, off-page optimization, link building, content production, and technical optimization are some of the techniques and tactics used in SEO. These approaches are used to increase a website's relevance, usability, and credibility, which aids search engines in understanding the site's content and purpose and ranking it higher for relevant search queries.
The ultimate objective of SEO is to improve user experience by presenting users with relevant and quality information and making it simpler for them to locate what they are looking for. Businesses may attract more organic visitors to their website, create more leads, and boost their online exposure and brand recognition by optimizing for search engines.
Do you have problems indexing and ranking your website's pages? This technical SEO checklist will assist you in identifying and resolving issues that hinder search engines from scanning, indexing, and ranking your site's content.
There are three sorts of SEO: technical, on-page, and off-page. On-page SEO is everything about your content that you can control, whereas technical SEO is primarily concerned with the structure of your website and other behind-the-scenes elements.
What exactly is a Technical SEO Checklist?
It's a checklist in which you complete all of the technical activities required to optimize your site for search engines. What technical SEO is all about is:
Learn how search engines see your website.
Find out what elements they utilize to determine your site's ranking position.
Make modifications to increase the exposure of your website.
Save this technical SEO checklist to return to once you've completed a job. With that being said, let's get started on the checklist straight now.
2022 Ultimate Technical SEO Checklist
Several of the actions on this to-do list may not be directly related to technical SEO but have an indirect link with it. I have over 158K users on my site because to this technical SEO checklist.
Install SSL on Your Website
In December 2014, Google began rewarding safe sites by providing them a ranking advantage over non-secure sites. Otherwise, you will lose search ranks if you do not migrate your website to HTTPS.
While this technical SEO checklist is intended for non-technical bloggers and marketers, let me recommend a plugin. "Very Simple SSL" is my recommendation.
Have Just One Version of Your Website Domain
Domains typically have many versions, such as sampidia.com and sampidia.com.ng Search engines such as Google will regard both versions as distinct webpages.
Here's how to route all of your addresses to the same version of your website:
Go to DNS records.
Type A as @
Add @ as a value for www domain name
As a consequence, each version receives its own page ranking in search results, dividing your link juice across the two sites. Ensure that both versions are redirected to the one in order to avoid losing visitors to your site.
Properly configure Permalink
Setting up permalinks is critical for technical SEO. Permalinks mostly influence your website's on-page ranking elements. Incorrectly constructed permalinks can also result in duplicate content concerns, resulting in poorer search engine results for your site.
To set up permalinks on your WordPress blog or website, follow these steps.
Go to the Settings section of the WordPress dashboard.
Make use of the 'Permalinks' feature.
Choose the post name option.
Make sure all of your site's URLs are well-structured.
Do not use long links such as: http://www.example.com/search/noheaders?click=6EE2Bkehgshfe97534t4jnvt564D9C2&clickPage=OPD+Product+Page&cat=80
And make use of URLs like this: http://www.example.com/pagename
In WordPress, all you have to do is go to 'Permalinks' in 'Settings' and pick 'Post name' from the permalinks choices.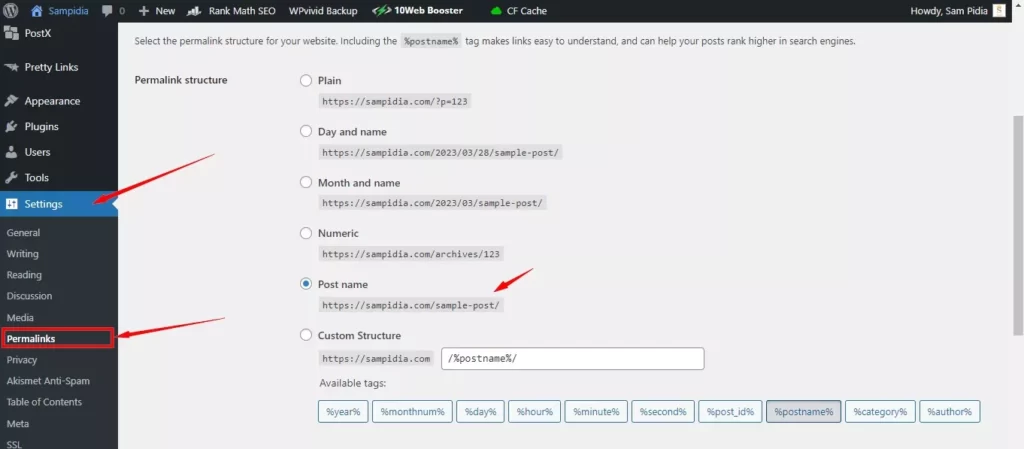 Investigate Google Analytics
Of course, adding your site to Google Analytics is not on the technical SEO checklist. But, doing so will allow you to track your site's traffic, page views, and visitor traffic sources. With such information, you may concentrate on technical SEO concerns. That's why I've added it to our to-do list. In order to link WordPress to Analytics,
Go to Add New Plugins.
Look for 'Site Kit by Google'.
Install and activate this plugin.
This will link your WordPress site with Google Analytics automatically. You may also use the Google Site Kit plugin for this purpose. But first, you must link your website with Google Analytics.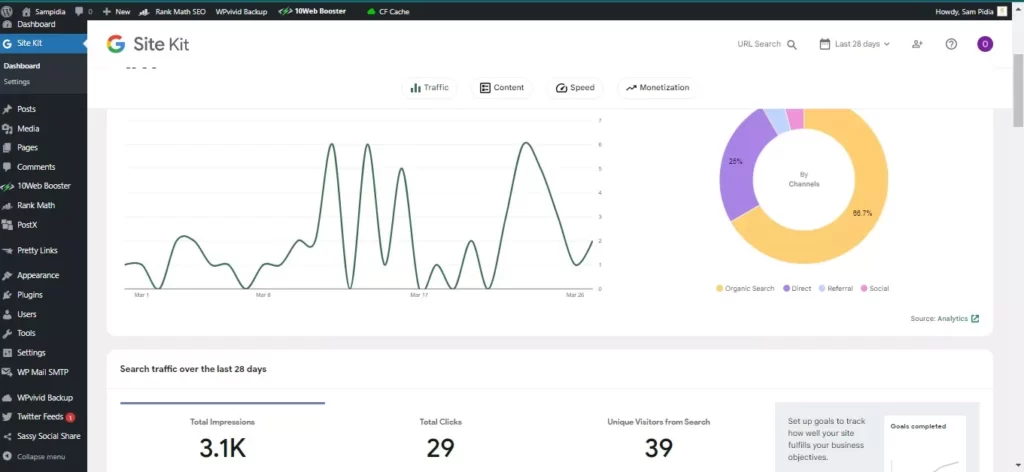 Register Your Website with Search Engines (Yandex, Google, Bing)
Crawlers are bots that visit your site and index it for search engines. Of course, indexing your site in search engines is out of your hands. Yet you can make it easier for search engines like Google to crawl and index your site.
I advocate connecting your site to Search Console and concentrating on interlinking your web pages for this purpose. Index your website in search engines such as Google, Yandex, and Bing. All you have to do is add your site to Bing Webmaster Tools.
Verify that your website is mobile-friendly (Technical SEO Checklist)
People utilize mobile gadgets more than ever before. Consequently, if your website isn't mobile-friendly, you've already lost a lot of traffic from people who use their phones or tablets to browse websites. Make sure your site is responsive, and test it on all devices.
Include Social Media Share Buttons
Remember, it isn't a must for a technical SEO checklist! Yet, including social network sharing buttons on your website will help you enhance both social signals and user engagement.
Social shares also aid in the development of links back to your website, which improves the site's search engine results. All you have to do is look for 'sassy social share' plugins, install, and activate them. Right present, there are several social sharing plugins accessible.
Fix any broken internal or external links.
Broken links are ones that, when clicked, do not take the user to the intended destination. They have a poor design and provide a poor user experience. Bad link structure has an impact on your website's search engine rankings.
Repair any broken links on your website and delete any pages that are no longer available to visitors. Look for the following pages:
301 or 302 redirect to a different page
Page 4XX error
Pages that are orphaned (not linked to at all)
The Sitechecker tool may be used to examine all internal and external connections. This program crawls the webpage and detects any broken links.
Duplicate content harms your search rankings and is a big contributor to the site's poor ranks. Remove all duplicate material from your website, and if necessary, use 301 redirects to send users to a canonical copy of that content.
I've already mentioned submitting only one version of your website. This is duplicate material since Google considers both versions to be separate websites. As a result, you must select one version and redirect all others to it.
You can avoid content duplication by doing the following four things:
Don't write about the same keyword twice.
Duplicate material should be redirected to the canonical URL.
Do not republish information that has previously been published on your website.
Make Certain Your Site Has an Optimized XML Sitemap An XML sitemap is in charge of making your material available to all search engine crawlers. Whether you have a WordPress site or not, this is an important aspect of the technical SEO checklist.
Check that the URL of each page on your site is included in the XML sitemap file. Improve the XML sitemap if required by using dynamic URLs from your WordPress blog.
Employ Canonical Tags on Your Website's Pages (Technical SEO Checklist)
Applying canonical tags is equivalent to telling search engines, "This page you discovered is the same as this page." Thus if two URLs are going to the same content then use a canonical tag to identify it.
Optimize the names and sizes of your image files.
Change the extension of all your photos to PNG or WebP and properly label and size them. The latter is more generally supported by search engines, while PNG is also popular.
It's not just about file names and sizes; think about alt tags and picture descriptions as well. This will assist crawlers in correctly understanding and indexing your picture assets.
Define Your Robots.txt File Correctly (Technical SEO Checklist)
That is also on the technical SEO checklist. This file is useful for search engine bots since it displays the crawl pathways for your site. As a result, make sure you provide the robot's file where crawlers may access each page.
Make the Most of Schema Markup
Schema Markup is a sort of microdata that you may add to your websites to improve their SERP rankings. It aids search engines in comprehending the material on your site. A search engine should be able to tell if you have answered a query.
https://schema.org/ has a massive collection of Schema Markups.
Do you have any questions about the Technical SEO Checklist 2022?

So there you have it: a comprehensive technical SEO checklist for your WordPress site. Even if you are a newbie or have a non-technical background, I hope this helps. Please leave a remark if you have any queries.