The Federal Teacher Scheme 2020 successful applicant list has been released by the Universal Basic Education Commission. In other words, the public can now access the full list of those who are successful in the next stage. 
Successful candidates have been shortlisted by the Universal Basic Education Commission. Above all, in conjunction with Universal Basic Education Board for The Federal Teacher Scheme 2020 in Various States in Nigeria. 
Generally, the Federal Teacher Scheme is a Government interventions plan to deliver quality education. In other words, the scheme provides necessary resources and manpower.
This scheme created in 2006 provides employment to Nigerians with NCE certificates. Therefore, creating two (2) years of teaching experience because the duration of the program is two (2) years. Successful applicants are teachers in primary schools or Junior Secondary Schools nationwide. 
The mission and vision of the Federal Teacher Scheme are below:
Firstly, it reduces the low numbers of teachers across all states in the federation. Thus providing public schools with the teachers they require.
Creating an avenue for fresh graduates with Nigeria Certificate In Education NCE to practically improve their career. 
It ensures quality education in the various institution under the Universal Basic Education Board as well as maintaining quality assurance.
Creating employment  
Improving the education standard across the federation.
The Universal Basic Education Board is under the National Coordinator with an assistant sent by other Departments in the Commission.
The Federal Teacher Scheme operation is via Universal Basic Education Board (UBEC). The scheme structure includes the state office, zonal office, and the headquarters office.
Universal Basic Education Board is hand in hand with each State Universal Basic Education Board (SUBEB) across the country. Similarly, via an official Desk Officer, that is by appointment via each commission. The Desk Officer manages the tasks, objectives, and duties of the Scheme in every state in Nigeria.
METHODS OF ACCESSING THE SUCCESSFUL CANDIDATES LIST
Universal Basic Education Board will send short messages (SMS) to all successful applicants. Successfully candidate list will is on Federal Teacher Scheme website.
PROCESS TO DETERMINE IF APPLICANTS ARE SUCCESSFUL FOR FEDERAL TEACHER SCHEME 2020: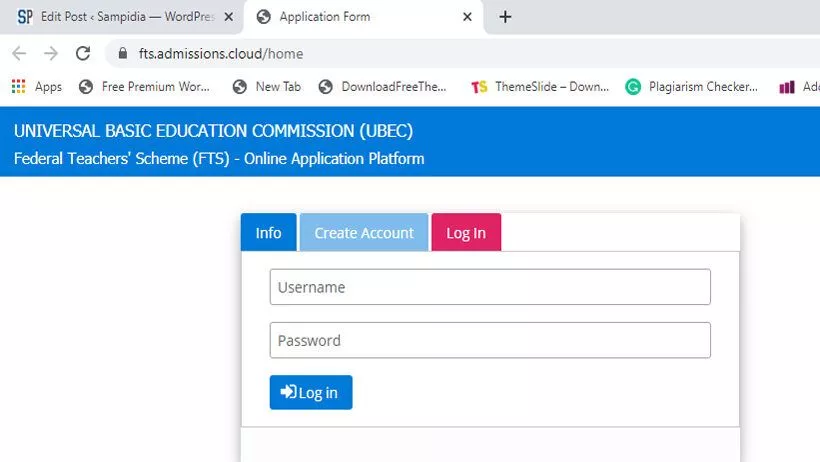 1. Applicants is to check his/her name on the website to check their application status: https://fts.admissions.cloud/home
2. Applicants will input their username and password, then click on login.
3. In conclusion, a notification that indicates if successfully selected. To continue to the next stage that includes physical and documents verification. The physical verification process will be at Various State Universal Basic Education Board Offices nationwide.
Success for every applicant. In conclusion, if can't find your name join our Whatsapp Group https://chat.whatsapp.com/4HzZ1KPNhYIGA8DQbyqvzb
An industrial chemist with over 5 years of tech experience. E-commerce, appointment/hotel booking, and business website designer.