NIN SIM LINKING: NIN is the National Identification Number. The Federal government, through the NCC, has given 2 weeks ultimatum for us to ensure that all phone numbers in Nigeria have a NIN (National ID Number attached).
In all fairness, this requirement is since 2017 in the "Mandatory Use of the NIN Regulations of 2017". But we all ignored it. So, it's actually been a 3-year time grace that the government gave us. The requirement would help us all to secure our country better.
Below are 10 things to note about the new NCC directive about SIM NIN LINKING.
If your phone number is not link to Your NIN by 31st of December 2020, your line would be block!
For those who already have a NIN, You can get your National Identification Number by dialing *346# from the phone number.
You actually no longer need a physical national I.D card, what you need is just to have your NIN (which is just the number).
If you already have a BVN, you may already likely have a NIN even if you have never physically gone to register for a NIN (especially if your BVN starts with 221 or 222).
NIMC has now licensed over 150 companies/entities that can carry out NIN enrollment all over the Country.
Yes, You can tie your single NIN to all your phone numbers. The same way you tied ur single BVN to all your account numbers.
If the phone number you used for the National Identification Number registration has changed or is missing. You need to update your record with NIMC. The update costs you only 500 nairas.
Your submitted NIN would be validated. If your data with the Telco doesn't match with your NIN data, you would have to sort that out while your sim may be temporarily disabled.
Sale of new SIMs have been suspended till further notice, so no one can purchase any new SIM for now.
Summary
NIN SIM LINKING: If you already have a BVN, you may already likely have a NIN even if you have never physically gone to register for a NIN (especially if your BVN starts with 221 or 222). This has been made possible because of the great collaboration between NIMC (National Identity Management Commission) and NIBSS (Nigeria Interbank Settlement System)PLC.
You may be able to ask your bank to confirm for you. As a matter of fact, for those who use GTB. You can log into your account online or the bank app to check for your National Identification Number by yourself (please note that this is not an advert for any bank).
This move by the NCC may cause us slight discomfort But it's something we should all support and commit to, for our own safety security.
In addition, the sale, registration, and activation of all new SIM cards have been suspended. While swaps and upgrades will only be completed upon the provision of National Identification Number. Please note that per the directive, lines not link to National Identification Number by Dec 30 2020 will be disconnected.
NIN SIM LINKING: We regret the inconvenience caused and thank you for your continued patience and understanding.
HOW TO DO MTN NIN SIM LINKING
Dail *785*Your NIN# from the phone number you wish to link. The number will be linked to your National Identification Number automatically.
Alternatively, You can also visit https://mtnonline.com/nin/ to submit your National Identification Number details. To check if your MTN NIN SIM LINKING is successful please dial *346# to confirm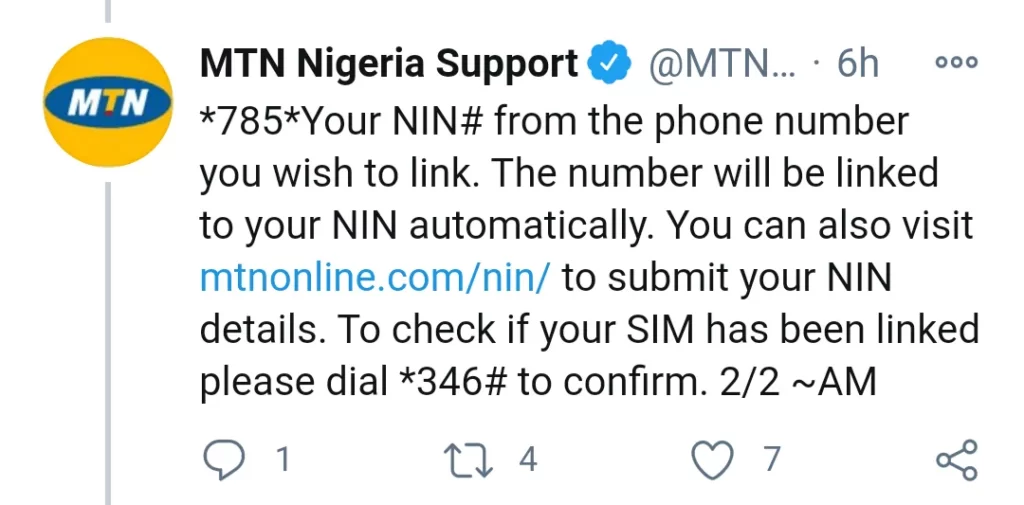 HOW TO LINK AIRTEL SIM WITH NIN
For those using Airtel as a network provider, dial *121# to submit your National Identification Number for verification and subsequent link to your number.
Here's another way to link your National Identification Number to your mobile number. Simply visit http://airtel.com.ng/nin and follow the steps.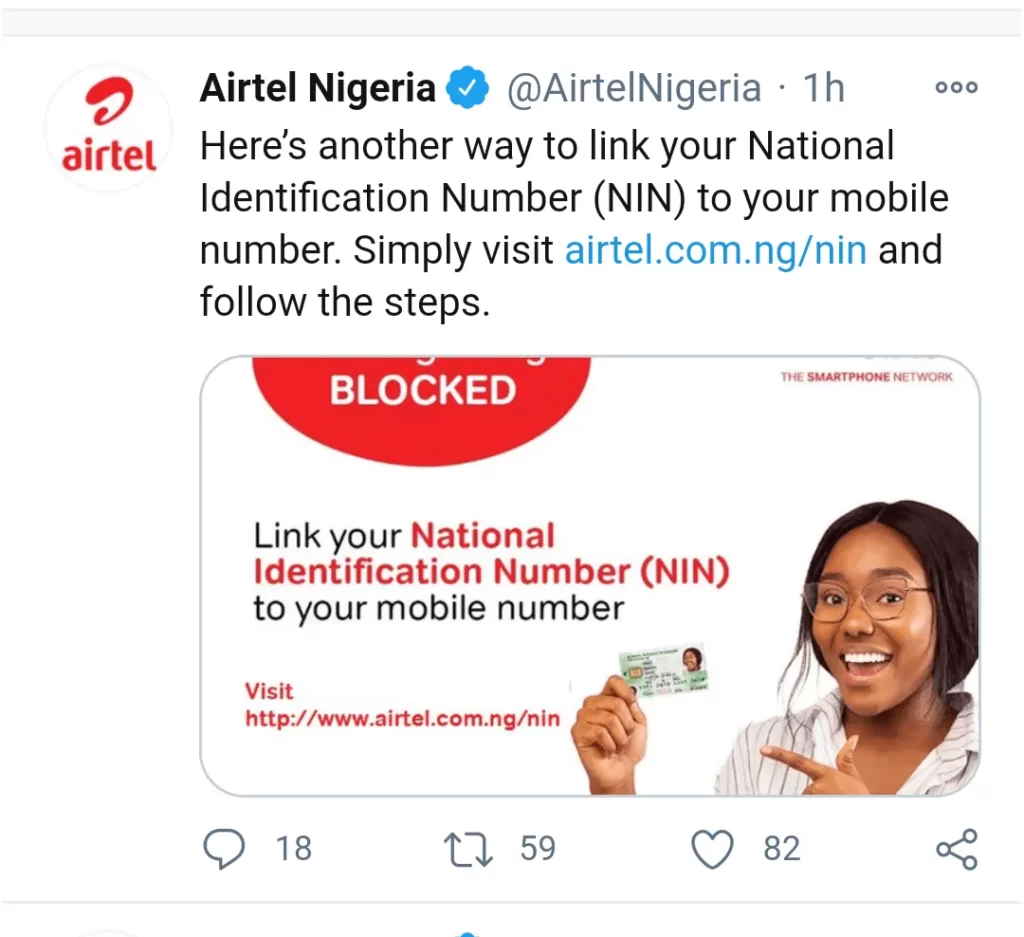 GLO SIM-NIN LINKING
To carry out NIN SIM linking on good SIM, send UPDATENIN NIN number first name, last name to 109 (e.g. Updatenin 12345678903 Amaka Abdul-shola) on the SIM card you wish to link
In other words, you can also visit www.gloworld.com/ng/nin . All Glo SIM users must send the message to 109 in order to link their phone number with their NIN.
9mobile/Etisalat Linking
NIN SIM LINKING: Verify & link your National Identity Number (NIN) to your mobile number dial *200*8# or visit https://9mobile.com.ng/nin To know your NIN status dial *346#
In conclusion, please visit a National Identification Number enrolment center if you are yet to do so (go to www.nimc.gov.ng) to find the enrolment center closest to you). If you have registered for a National Identification Number and wish to retrieve it. Please dial *346# using the number registered at enrolment.